Garage Cabinet Set, 4 Foot - Deluxe Base Cabinet with Overhead Cabinet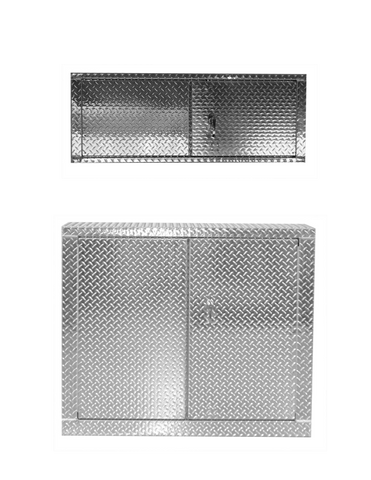 Garage Cabinet Set, 4 Foot - Deluxe Base Cabinet with Overhead Cabinet
Item #
4001-4101 Package
Description:
This 4 Foot Deluxe Cabinet Package is perfect if you are tight on space or if you want your work area to stand out from the rest. The diamond plate aluminum base cabinet features a fully adjustable 16 Inch deep shelf that you mount at the desired height. Locking doors that use a tamper resistant 2 point locking system. The counter top is smooth aluminum.
Lift-Gate Note:
Nearly all freight deliveries from Garage Team can be unloaded from the truck without the need for a loading dock, fork-lift, or "Lift-Gate" service. If you require "Lift-Gate" service at your "Ship-To" address there will be an additional fee assessed to your order. Please only choose the "Lift-Gate" option once per order.
***If you need to add the "Lift-Gate" Service to your shipment after FedEx contacts you to schedule the delivery, you will be responsible for the "Lift-Gate" Fee associated with your shipment delivery.
Features and Specifications:
Item Number:

 

4101

 

(Overhead Cabinet)

Dimensions (Inches) L x W x H: 48 x 14 x 18
Product Weight (Pounds): 35

Item Number:

 

4001

 

(Base Cabinet)

Dimensions (Inches) L x W x H: 48 x 22 x 40
Product Weight (Pounds): 80
Number of Adjustable Shelves: (1)
Full Cabinet Floor and Back

Items Normally Made within 7-10 Business Days
Ships Fully Assembled - No Assembly Required
Heavy Duty Construction with High Strength MIG Welds
Heavy Duty 2 Point Lockable Latch
Stainless Steel Rivets Used to Assemble
High Strength Aluminum Piano Hinges
Mounting Hardware Included
Doors and Main Structure: Diamond Plate Aluminum 0.063 Inch Thick
Counter Top and Shelf: Smooth Aluminum 0.090 Inch Thick
No Substitutions
Shipping Method: Motor Freight (via a semi-truck)
MADE IN THE USA